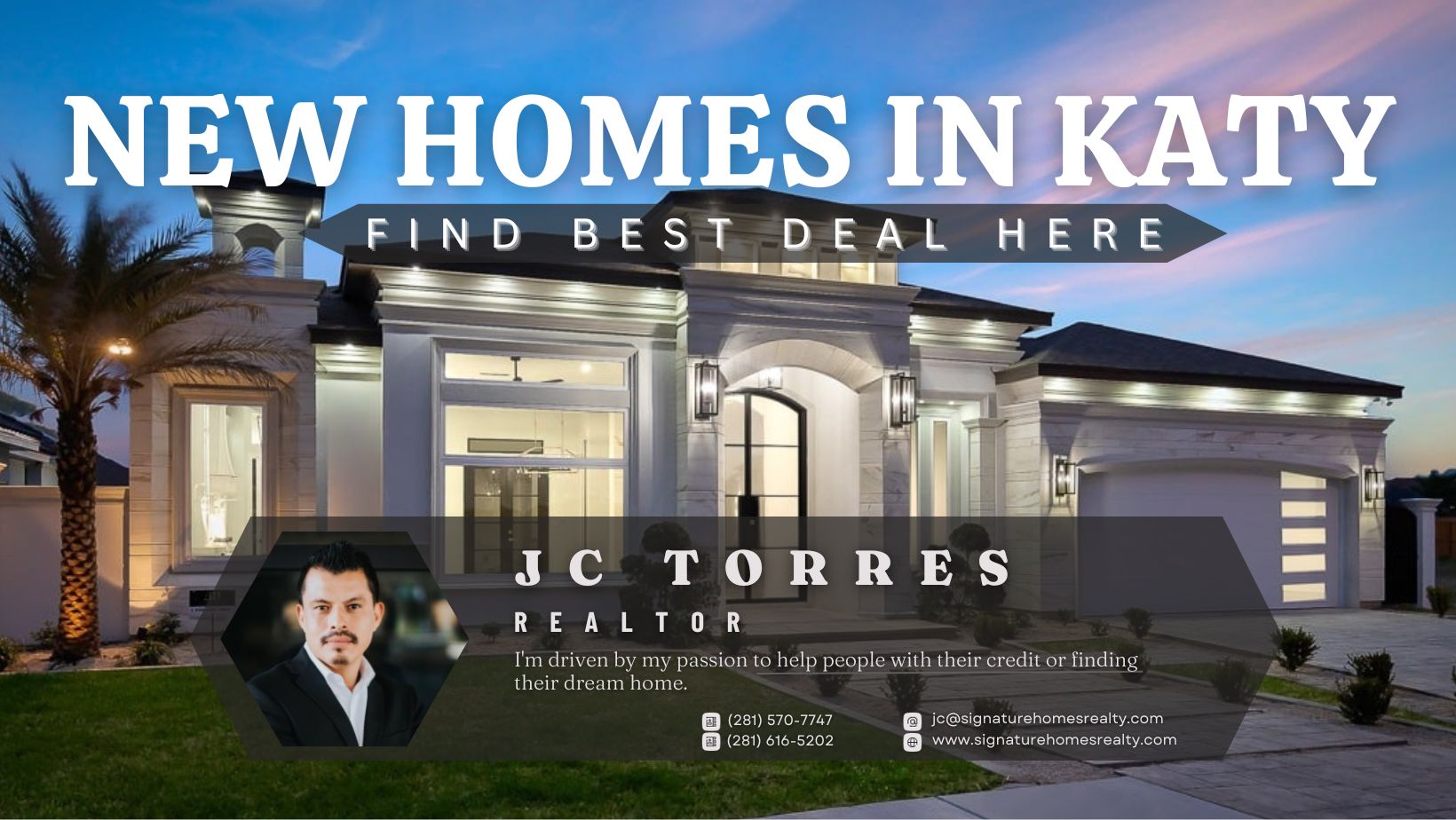 KATY, TEXAS
Katy, TX is a place where quality living and convenience seamlessly converge, making it the ideal location to set down roots or upgrade your current residence. If you're relocating or finding a new home to Katy, TX, our expert real estate agents can guide you every step of the way.
Your Path to the Perfect Home in Katy, Texas Starts Here with Signature Homes Realty
Explore the latest house listings in Katy's residential properties and modern homes tailored to your lifestyle. Find the perfect new home in Katy, where quality living and convenience meet.
Katy's Fresh Beginnings: Your New Home is Waiting for You!
December 10, 2023
Katy's Fresh Beginnings: Your New Home is Waiting for You! by Price
New Katy Home Building
349 Properties
Address
Beds
Baths
Sq.Ft.
Price(%Chng)
$/Sq.Ft.
On Site
4022 Cambre Circle
Katy, TX 77494
3
2
1,575
$323,990
$205.71
2 days
3907 Pierce Place Ln
Katy, TX 77494
4
2
1,817
$329,990
$181.61
2 days
30215 Reagans Ranch Dr
Katy, TX 77494
4
2
2,031
$340,990
$167.89
2 days
30135 Gallatin River Ln
Katy, TX 77494
4
3
2,175
$349,990
$160.91
2 days
4003 Pierce Place Ln
Katy, TX 77494
4
3
2,199
$357,990
$162.80
2 days
30303 Reagans Ranch Dr
Katy, TX 77494
4
3
2,041
$355,990
$174.42
2 days
1220 Summer Bend Dr
Katy, TX 77493
5
3
2,834
$464,240
$163.81
2 days
1233 Woodflower Dr
Katy, TX 77493
3
3
2,529
$467,330
$184.79
2 days
27211 Blue Pool Dr
Katy, TX 77493
4
2
1,827
$314,990
$172.41
3 days
4952 Pismo Ray Dr
Katy, TX 77493
3
2
1,396
$300,415
$215.20
3 days
3049 Sorrento Hill Dr
Katy, TX 77493
4
2
2,070
$360,000
$173.91
4 days
3021 Sorrento Hill Dr
Katy, TX 77493
4
3
1,989
$400,000
$201.11
4 days
3023 Sunmoon Ln
Katy, TX 77493
3
2
1,931
$370,000
$191.61
4 days
27031 Blue Pool Drive
Katy, TX 77493
3
2
1,400
$319,677
$228.34
4 days
4932 Almond Terrace Dr
Katy, TX 77493
5
3
2,733
$399,040
$146.01
4 days
5615 Coral Land Drive
Katy, TX 77493
4
2
2,294
$450,669
$196.46
4 days
27030 Costa Creek Dr
Katy, TX 77493
4
3
2,582
$442,533
$171.39
4 days
27007 Sunset Palace Drive
Katy, TX 77493
3
2
1,584
$372,119
$234.92
4 days
27011 Sunset Palace Dr
Katy, TX 77493
4
3
2,538
$467,387
$184.16
4 days
27031 Costa Creek Dr
Katy, TX 77493
3
2
1,682
$367,850
$218.70
4 days
3024 Tantara Dr
Katy, TX 77493
3
3
2,147
$399,997

-3.3%

$186.31
5 days
3000 Tantara Dr
Katy, TX 77493
4
4
2,905
$484,604
$166.82
5 days
456 Long Beach Bay Dr
Katy, TX 77493
4
3
1,915
$352,400

2.9%

$184.02
5 days
449 Aurora Creek Ln
Katy, TX 77493
4
3
2,227
$407,400
$182.94
5 days
466 Aurora Creek Ln
Katy, TX 77493
4
3
2,227
$381,400
$171.26
5 days
416 Long Beach Bay Dr
Katy, TX 77493
4
2
1,602
$330,900
$206.55
5 days
3064 Sorrento Hill Dr
Katy, TX 77493
3
2
1,603
$360,000
$224.58
5 days
433 Aurora Creek Ln
Katy, TX 77493
4
3
2,227
$407,400
$182.94
5 days
425 Aurora Creek Ln
Katy, TX 77493
4
3
1,915
$391,400
$204.39
5 days
429 Aurora Creek Ln
Katy, TX 77493
4
3
2,335
$413,900
$177.26
5 days
453 Aurora Creek Ln
Katy, TX 77493
4
3
2,335
$413,900
$177.26
5 days
457 Aurora Creek Ln
Katy, TX 77493
5
4
2,525
$429,900
$170.26
5 days
23314 Kinsfolk Dr
Katy, TX 77493
4
3
2,003
$333,990
$166.74
6 days
27027 Golden Isle Ln
Katy, TX 77493
4
3
1,833
$330,000
$180.03
7 days
27011 River Birch Ridge Dr
Katy, TX 77493
4
2
1,736
$310,000
$178.57
7 days
1428 Sundown Glen Ln
Katy, TX 77493
3
3
1,784
$339,187
$190.13
9 days
1401 Sundown Glen Ln
Katy, TX 77493
3
3
1,784
$345,990
$193.94
9 days
5334 Acapulco Mist Dr
Katy, TX 77493
4
4
2,922
$478,670
$163.82
9 days
5326 Acapulco Mist Dr
Katy, TX 77493
3
2
1,830
$381,400
$208.42
9 days
5322 Acapulco Mist Dr
Katy, TX 77493
4
3
2,715
$448,000
$165.01
9 days
5342 Acapulco Mist Dr
Katy, TX 77493
4
3
2,715
$447,027
$164.65
9 days
30119 Reagans Ranch Dr
Katy, TX 77494
3
2
1,575
$338,990
$215.23
10 days
4222 Darby Peak Ct
Katy, TX 77494
3
2
1,575
$338,990
$215.23
10 days
29907 Foxtail Pine Ct
Katy, TX 77494
4
3
2,199
$349,990
$159.16
10 days
30322 Reagans Ranch Dr
Katy, TX 77494
4
3
2,199
$354,990
$161.43
10 days
5119 Bluebird Song Ln
Katy, TX 77493
4
3
2,049
$349,973

0.1%

$170.80
11 days
5115 Bluebird Song Ln
Katy, TX 77493
3
2
1,585
$315,929

0.1%

$199.32
11 days
25418 Trinity Oakley Ct
Katy, TX 77493
4
3
2,646
$359,995
$136.05
11 days
5135 Bluebird Song Ln
Katy, TX 77493
3
2
1,400
$312,258

-2.4%

$223.04
11 days
5131 Bluebird Song Ln
Katy, TX 77493
3
2
1,585
$321,237

0.1%

$202.67
11 days