Owner Financing
Posted by JC Torres on Friday, March 10, 2023 at 12:31:44 PM
By JC Torres / March 10, 2023
Comment

WE SERVICE ENTIRE HOUSTON!
We help people who do not qualify for traditional financing.
There's much to see here. So, take your time, look around, and learn more about us. We hope you enjoy our blog and take a moment to drop us a line.
So the first question is, why owner financing?
The simple answer is: so you don't have to deal with the banks! Even if you are the perfect borrower, getting a loan through a bank is extremely time consuming and stressful. If you are self employed or have any credit issues, it is that much worse.
Owner financing can be relatively stress free, "if" you know what you are doing. Plus, these transactions can close in as little as 2 weeks.
So what do you need to look out for?
First, you want to make sure you have a real estate agent that understands owner financing and does these type of transaction often.
Owner financing is NOT taught in real estate schools and there are a lot of real estate agents working on these type of transactions that really don't understand much about the deal. That is not good. You need a knowledgeable agent to represent your interests on these transactions. You also want to make sure you have a real estate agent who cares more about you than about their commission.
What We Do
Buyers who do not qualify for traditional financing will be pre-approved by us and assigned to one of our pre-qualified investors looking to passively invest in real estate.
Owner Financing is great option for buyers who don't want the stress of dealing with banks and are ready to move in to a home quickly, however, you have to make sure you are working with a real estate agent who truly understands owner financing transactions and can mitigate the risks of dealing with sellers that do not want to structure the deal correctly. Sellers are usually offering owner financing because they want to sell their home quick and make money from the interest, but there are sellers that are offering owner financing for other reasons that you need to be aware of.
I love owner financing and our clients love owner financing, but that is because we refuse to compromise and always make sure the deal is done right. I hope this helps someone make a wise decision when purchasing their next home.
More About Our Program
You pick the home & we buy it for you!
With a valid ID or Passport & Proof of Funds, ALL buyers are approved within 24-48 hours.
Contact us for more information if you are interested in our referral program. This is a great program for Realtors & Brokers! Schedule a presentation for your team today and start tapping into a whole new market of opportunity.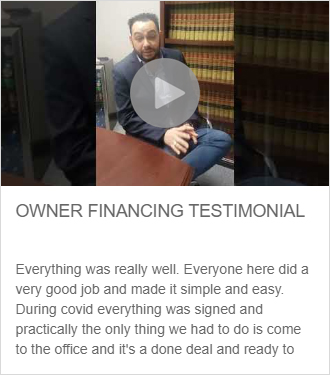 BENEFITS FOR BUYERS REALTORS AND INVESTORS
Buyers
Bad credit-OK
You pick the home & we buy it for you
ITIN & foreign nationals welcome
Deed belongs to the Buyer the day we close

Realtors
Generate more leads
Pre-approval within 24 hours
Full price offers, Referral fees
No fee to participate in our program
Investors
Minimal Investment
High Returns
Great for new or seasoned Investors
Generate monthly cash flow through passive investing backed by Real Estate
Hands off Portfolio Management