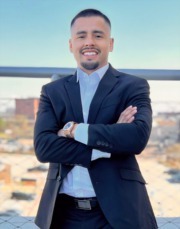 Jose uses skills acquired from his years in data analytics and sales to provide the best experience for his clients. He specializes in excellent customer service and research, ensuring you receive the latest market data in West Houston and surrounding areas. Whether you are relocating, moving up or downsizing, he is your go-to-guy.

Additionally, Jose's accommodating personality makes it easy for you to communicate your questions and concerns. He listens and ensures that you have all that you need to make an informed decision about listing your home, negotiations and the closing process.

Furthermore, he speaks English, Spanish and Portuguese. Feel free to reach out to him with any questions.
Testimonials
Hello everyone first off let me start off by saying I'm a paralyzed United States Army Combat Veteran and when I say I found Jose randomly, guy's that's an understatement. For some time my family and I have been in search of a home, praying that we find something. But due to my situation and being in the hospital for about almost a year our luck was running thin and out. I found Jose on a luck of a draw online. And I'm eternally grateful for finding Jose this man went above and beyond his line of duty. Jose reminded me of the warriors I served with in the Army. When I tell you this man did not quit until I had it home, he did not quit. He will forever be in my "Book Of Hero's". Jose is very communicative and very informative he will constantly ask questions that will ensure he finds the suitable home for you and your family. So if you live in Texas Harris county or even outside of Harris county give this man a shout and I guarantee you! Jose will do all he can for you to find a home. Thanks again Jose and may God bless you and your family.
Franklin Zelaya
Jose is by far the best Realtor I have worked with. I relocated to another city smoothly with his processes. His communication and professionalism is outstanding!! He got me the house I wanted in such a short amount of time. I recommend everyone to Jose as you would be very satisfied like my family and I!
Shakeela